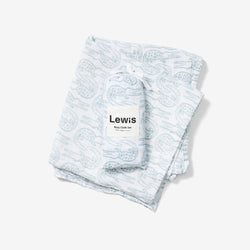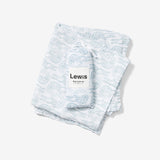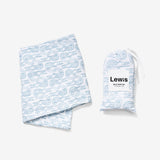 Swaddle + Burp Cloth Set
Alligator | Bay Blue
•  100% organic cotton muslin
•  Includes 1 swaddle blanket + 1 burp cloth set (set of two)
We always have these on hand (and in multiple rooms + bags!) for spit ups, wipe downs + in a pinch, a little coverage for baby or Mama. We love Alligator for his toothy grin, which is made serene in our soft Bay Blue color.
Sweetness
I ordered these gifts for an upcoming baby girl shower. I know the mommy to be will adore the products! The quality and uniqueness of your products allow me to order confidently. Thank you!
Thank you so much Dianne, and we can't wait for her to enjoy them!
Oyster Swaddle
This is my third time ordering from
Lewis and I continue to receive such wonderful products from them. This oyster swaddle is so cute and soft I can't wait for my little one to enjoy it!
We can't wait for your little one to enjoy it as well Hannah!
Excellent!
Excellent quality! Was given as a gift and the recipient loved the print as well.
Love these products
This Brand is amazing. The material is high quality and so soft.
beautiful soft essential
These swaddles are my favorite addition to every baby shower gift. I love this sweet gender-neutral color and pattern.