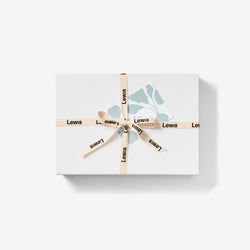 Please note: We are unable to wrap sale items.
All gifts are wrapped in our custom tissue wrap and include your gift message, typed on our Lewis stationery. Please enter your message in the text box as you would like it to appear on the note to your recipient. 
(If you leave the gift message blank, we will include a blank card.) 
Gift Box
My gift box purchase was fabulous. The presentation was beautiful and Lewis will now be my go to for gifts because of the ability to get things wrapped and have a personal message. The presentation of the gift is just as important as the gift itself.
Thanks Lewis as alway's,
Adele
We totally agree the presentation should be as beautiful as the gift, thank you for sharing this Adele!