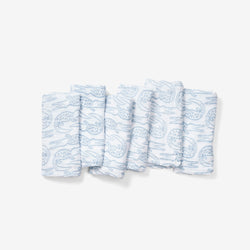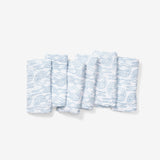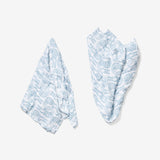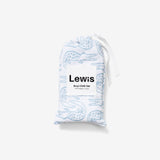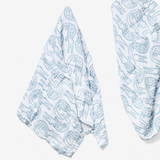 Burp Cloth Set x3
Alligator | Bay Blue
Set of Six
100% organic cotton
Value Pack Pricing!

Stock up on the things you use most! This set of six burp cloths is specially priced at 20% off the unit price so you are sure to have one when you need it! 
We always have these on hand (and in multiple rooms + bags!) for spit ups, wipe downs + in a pinch, a little coverage for baby or Mama. We love Alligator for his toothy grin, which is made serene in our soft Bay Blue color.
These burp cloths are simple organic cotton cloths designed to show a little personality through print and withstand all the ways you'll use them, making our burp cloths the ones you'll reach for for clean-up-duty years to come.
Great gift to have on hand!
These are great to have on hand for adding to a baby shower gift or visiting with a newborn. The color and print are the perfect nautical/nature combo!
So glad to hear this Jen, and we love gifting these too!
Cute burp cloth
The cloth is very soft and the print is so cute. I've been waiting for the swaddle the agave radish print to be back in stock!
The absolute best material!
This is the 4th set of these burp cloths I've purchased and as always they are perfect! I bought the Oysters print before my 4 yr old granddaughter was born and she STILL sleeps with her "Ninny". When we found out she will be a big sister soon she asked me to get "Nins" for her new sister. She picked out the Geranium print because it has pink and green. This fabric is the softest and only gets better with age.
We are so happy to hear this Wendy, thank you so much for sharing that with us!
Best burp cloths ever!
We are *obsessed* with these burp cloths and these are the only ones we use now. Also make great gifts and I love giving them to new moms... you can never have enough!!
The best baby gift!
My favorite baby gift to give! Super soft and the sweetest prints.