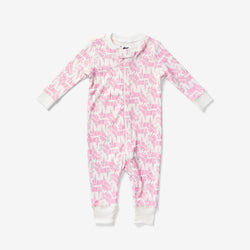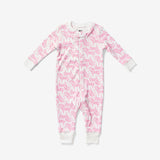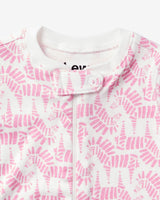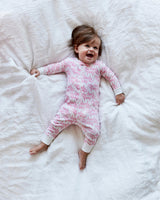 Zip Sleeper
Zebra | Carnation
•  100% organic cotton
•  Sizes 0-3 months - 12-18 months

Introducing new fabric for Zebra, Harbor Seal, and Polar Bear!
We've upgraded our one-piece bodysuit with double zipper up the front and snap tab at collar. Now made from a super soft ribbed cotton. The extra stretch in rib makes for a roomier fit that also fits baby longer! Fits true to size.
We love Zebra for her graphic stripes and structure that create such a bold print for little bodies, in a fun pink to brighten up shorter days.
Model just turned one and is wearing 6-12m!
"These PJs are one of my favorite gifts for new parents." - Wirecutter
The Three Little Polar Bears
I purchased 3 pair of your beautiful polar bear pj's for my 3 grandsons. We will all be together for Thanksgiving, so I'm hoping for a picture of them together in their new pj's that I can use for my Christmas card. The pj's are beautiful, so soft. Their moms were so happy when they saw them. Can't wait to see them all decked out! 💙
So happy to hear this Janet, and that will be such a cute matching photo for your card!
Always a favorite!
We love the improvements they made to the organic fabric. It washes and dries beautifully and it has a lot more give making it easier to dress little ones. I found them to fit true to size, my average size 13 month old is wearing a 12-18 month and the fit is just right. My average size just turned 5yo is wearing a size 6 with some room to grow. Please consider making the zip sleeper in size 2 and 3t!
Alligator pajamas
These are so soft and so cute. My son loves them!
So sweet!
Purchased these as a birthday gift for my son's classmate. Love the sweet, unique design and the quality of the fabric. And they arrived so quickly and nicely packaged! Thank you!
We love gifting PJs too, thank you for sharing!
Cutest duck pajamas
Love the pattern and the fit is perfect. Cozy and cute as can be.